"Delightful Drosselmeier, Flawless Flora, Priceless Peacock and the Captivating Clara - PNB's Nutcracker sets the bar at the horizon..."

Pacific Northwest Ballet's
Nutcracker
Choreography: Kent Stowell
Sets & Costumes: Maurice Sendak
November 26th - December 27th
Tickets:
http://www.pnb.org/
The Northwest has several things during the holiday season that people flock to see. Our wonderfully lit Space Needle and Seattle Center, the our snow capped mountains that can be seen clearly on a gorgeous day, and amazing downtown Christmas Tree and Ice Skating rink - and - one of the most unique and magical productions of the Nutcracker in the United States. Previous director, Kent Stowell in collaboration with "Where the Wild Things Are" illustrator Maurice Sendak created a production that has become, throughout the years, a tradition in the majority of the households in the Northwest. Kids receive tickets under the tree as gifts, families get dressed in their best and make it a holiday family event together.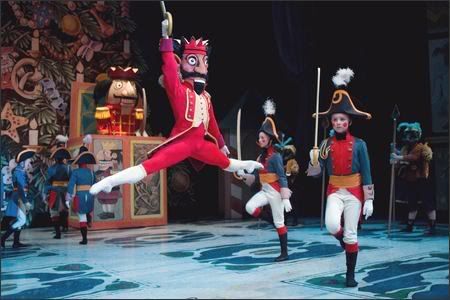 As a proud Northwesterner, I can say I have been going to see PNB's nutcracker since I was a young child - so off and on for 30 years. However I must admit I didn't truly appreciate the magnitude and magic of it all until my daughter started attending the school and became part of the production last year. Now, spending the majority of my life in the halls of the PNB School - we have the honor of watching the company dancers practicing for upcoming shows etc - and in time, we get to know them by name, and have created favorites.
Our family tradition, though rather new - is to see our daughters opening night - still full from Thanksgiving dinner - with my visiting in-laws from Florida. We make it their Christmas presents for the year (as GOOD seats are pricey but very worth it). The company cast isn't announced until the week before opening weekend, so its really luck of the draw as to who you have performing the night you see it. Overall - Peter Boal has a lovely and extremely talented group of company performers, so whoever you see, you are sure to get a good show.
Now -- that being said -- I am CONVINCED - we saw one of the best casts I have ever seen - perform together this past Saturday night.
From the prologue - and Uncle Drosselmeier, all the way to Flora and almost every character in between - it was sincerely a magical work of art and proof that the story can touch every age and every heart.
I have seen countless Drosselmeier's in my time - even the artistic director Peter Boal has played him - and no one has played the character quite like PNB Principle dancer and Whim W'him company creator
Olivier Weavers
. Often seen as the "pot stirrer" of the show, this character, I feel is very important and a huge part of if the audience understands the story or not. Weavers eccentric and excellently animated the roll of the creepy and mysterious Uncle to Clara.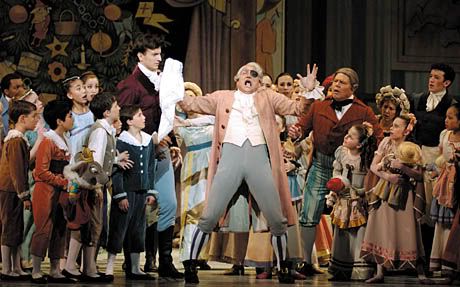 He hilariously bounced around with the same agility and excitement as the children in the scene with him - often times catching them off guard, making for a naturally wonderful response from the children. I found myself finally understanding the dynamic between Drosselmeier and Clara and how his conniving makes what is the essence of the story. I credit this all to Weavers brilliant performance.
Clara - the part every girl dreams of being as a child...was danced breathtakingly by PNB Principle dancer
Carla Korbes
. Her technique flowed like water and she played the part with every inch of her being. Her Prince - PNB Principle dancer
Batkhurel Bold
was the epitome of testosterone and strength and was an amazing support for the countless lifts of Korbes - high enough to make little girls in the audience gasp. Unfortunately, like most Prince/Princess pairings, the sparkly princess gets more of the attention - and Carla easily steals the show when they share the stage. Her effortless develope up to her ear, flawless ponche's and ridiculously high and perfect grand jete's - had my grandmother, a ballet mega-fan and aficionado yelling "Brava!!" after each combination.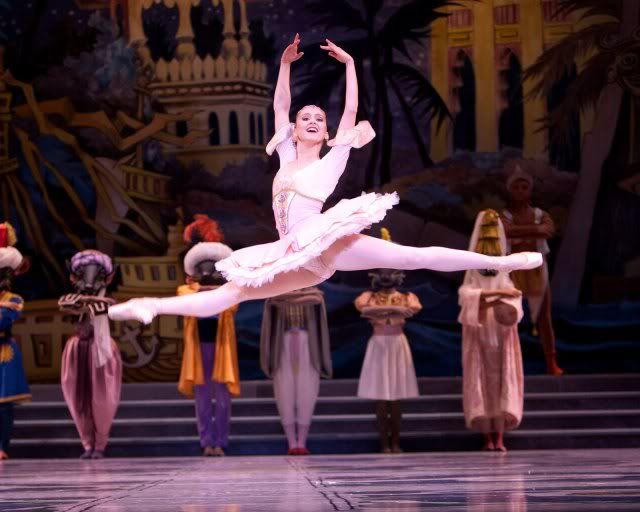 The children consist of over half of the cast, ranging from party girls and boys, battle attendants, mice, and servants. Arguably the best dance part for ages 17 and under is the part of Chinese girls. The part is for 4 girls, on pointe, and each holding a ribbon helping contain the Chinese Tiger - that looks wonderfully like one of the monsters one of Sendak's books.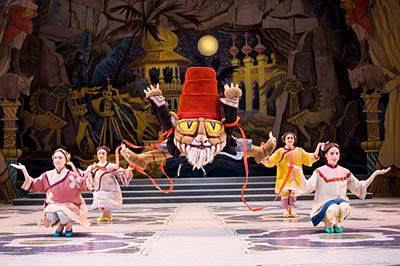 The girls, dressed in vibrantly colored costumes have quite a fun but difficult looking dance, considering their ages. This time is was fun to watch because we knew the dancers and because the dancing was so light, fun and well done - the girls made it seem effortless and were beaming on stage. It was tons of fun to watch.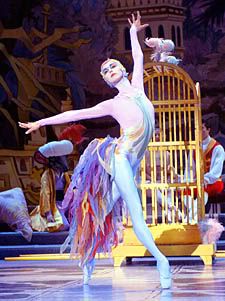 One of the most popular pieces and characters of the show is the Peacock. This part was hard for me to warm up to at first - as I was a fan of the classic tale - which instead of a Peacock was "Arabian Coffee". I was not won over until I saw this role danced last year - by PNB Soloist,
Lindsi Dec
. We were lucky enough to see her dance it again this night. She embodied the persona of the Peacock and had the perfect attitude, along with the amazing extension of her legs and arms to really transform herself into the character. I looked high and low for a photo of Linsdi in this roll but came up empty handed, but here is a photo of another PNB Dancer in the roll so you can see the costume.
Lastly but certainly not least is Flora - the lead dancer roll in the Flowers section. Flowers is known in my family, after the Snow scene - as one of the easiest parts to be lulled to sleep during. Every dancer I have ever spoken to who has had to dance that lead says its the hardest women's part in the entire show, because of its length and difficulty. We were blessed enough to watch PNB Principle dancer,
Carrie Imler
as Flora this night and she was beaming and flawless. Her strength is a force to be reckoned with in that company and her technique never waivers. Our entire family talked over dinner after the show, and we all came away with the same thing after her performance - she seemed RADIANT and so happy! Its always amazing watching someone talented do something perfectly and love every minute.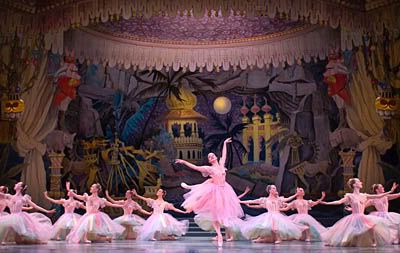 I hate to leave out the other parts - as every piece of the show is memorable in its own way. Act I is full of lovely small solo's as part of Drosselmeiers enchanting magic - the Doll, the Sword Dancer Doll and of course the Masque dancers.
And of course no Nutcracker would be complete without the Snow flakes - who close Act I, so magical, the dancers float as if on air.
Every family's holiday traditions are different, however this production is the type of event I can see all types of families and religious backgrounds making part of their holiday tradition. No matter how long the show has been around, I always meet someone who has never seen it but always wanted to.
Peter Boal
has pieced together such a strong, diverse and amazing company, that virtually ANY show you see will have wonderful and amazing dancers in it. They say that you are only as strong as your weakest link - and there are over 150 parts in this show. Living, breathing and dancing parts from age 6 all the way up to Grandfather age! Thankfully,
Peter Boal
has just as high standards for his school aged dancers as his company dancers, because class, maturity and professionalism radiates from everyone in the cast.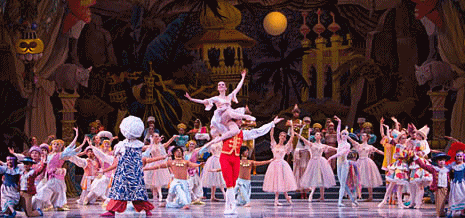 No matter who you treat to the Nutcracker this season - daughter, son, sister, brother, parents, grandparents etc -- it is sure to be more than just a treat, it will be an experience they will never forget.
Rating: ***** - Excellent all around!